Friday Roundup: 10/19/12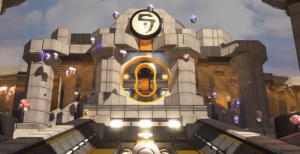 Another Friday, another roundup! This week, we focus on intros, voice acting, and more campaign clean-up!
As detailed in Wednesday's "Best Foot Forward" blog, we've been hard at work on our introduction video and release trailer. Progress has been rapid, and we're hoping that the scenes we're stitching together will help players to relate to the citizens and their world within Retrovirus.
Our voice actress, Zen Josey, has been hard at work in the recording booth. Along with Nick Mazmanian, our script writer, she's been recording lines for Oracle that are starting to make their way into the Retrovirus campaign. The campaign is flowing together, and much progress has been made in stitching together the narrative of the campaign. The voice work put in by Nick and Zen has started trickling into the game, and it's just another stitch pulling things together.
As for what we've been reading, and playing…